THE DECENTRALIZED INSTALLATION PHILOSOPHY
A pluggable, decentralized installation is clearly structured, requires fewer resources, and remains flexible throughout the service life of the building.
SHORTAGE OF SKILLED WORKERS DRIVES BUILDING INDUSTRY INTO CRISIS -
PLUGGABLE ELECTRICAL INSTALLATION OFFERS THE SOLUTION
A meaningful indicator of an increasing shortage of skilled workers is the development of general employment figures in the German economy, particularly in the electrical sector.
But an ostrich policy in view of the current situation would be fatal. Instead of resignation, rethinking will help – especially among those responsible in the planning offices, since they act in their function as a link between building owners, investors, architects and users. They will put conventional electrical installation methods to the test from a cost-benefit perspective.
And they will ask themselves:

How can new building concepts on the one hand and changes in existing utilization concepts on the other be realized faster, more flexibly and more simply than in the past when time, personnel and financial resources are tight?
THE ANSWER:
DECENTRALIZED AND PLUGGABLE ELECTRICAL INSTALLATION SYSTEMS
Unfortunately, the majority of today's electrical installations are still made in the conventional way, and thus in a star configuration. But what is the problem here? A metaphor.
A LOOK AT NATURE
If a tree in nature were to act according to the same principle, the result would look something like this: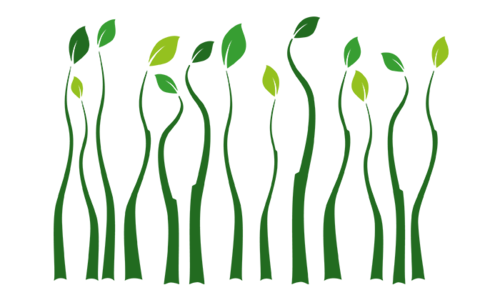 THE CRUX OF THE MATTER:
All leaves need to be supplied by the soil individually.

THE CONSEQUENCE:
Little efficiency with
high space requirements
and material usage.
BUT WHAT IF...
the energy distribution does not have to supply all consumers individually, as in nature, but instead supplies all leaves via a single trunk.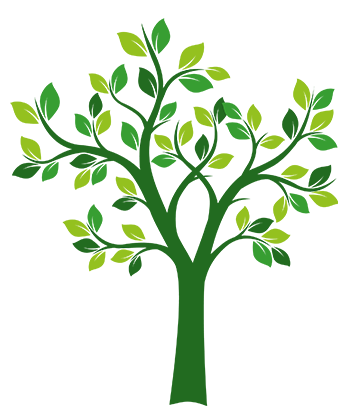 THE HAPPY RESULT:
Less material used
Higher energy efficiency
Less space required
Reduced fire load
CONVENTIONAL
INSTALLATION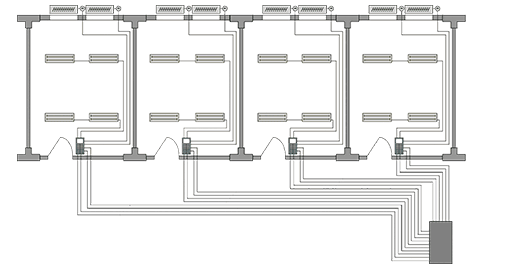 Conventional features:
Star-shaped arrangement of the installation
Each consumer is connected to the subdistribution through a line
Electrician must connect everything himself on site
High material input
High space requirement in the installation zones and the subdistribution board
The moment maintenance or changes to the existing utilisation concept are due, at the latest, it becomes clear: nerve-racking work steps are inevitable, time-consuming and cost-intensive installation processes are imminent and tie up not only financial resources but also valuable personnel capacities.
DECENTRALIZED ELECTRICAL INSTALLATION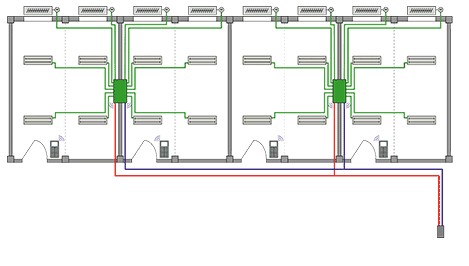 Decentralized features:
Supply takes place via a central line with a higher cross-section
Individual consumers are supplied via distributors
From the subdistribution, a stepwise (fused) cross-sectional distribution is provided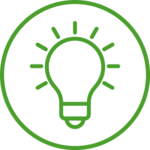 THIS MEANS:
Reduction of the line length by up to 80%
Copper savings of up to 66%
A complex power supply or room automation can only be simplified if a decentralized cabling structure is implemented. In combination with the pluggability, this results in a system that can be installed quickly and safely. In concrete terms, this means that the complexity of the cabling is greatly reduced, which increases the clarity of the installation and greatly simplifies changes or extensions. As a result, individual components can be installed separately from one another, expanded into a clearly structured system in just a few steps, and thus also better maintained.
ENERGY AND COST SAVINGS
...during the construction and life cycle of a building, thanks to three-phase cabling right up to the consumers:
A structured and clear cabling is created
Reduction of the copper content due to lower line costs
Increase in flexibility for extensions and changes
Increase in net floor area, thanks to smaller subdivisions.
Reduction of voltage drop and fire load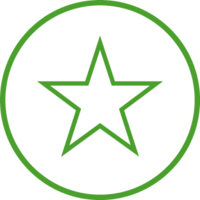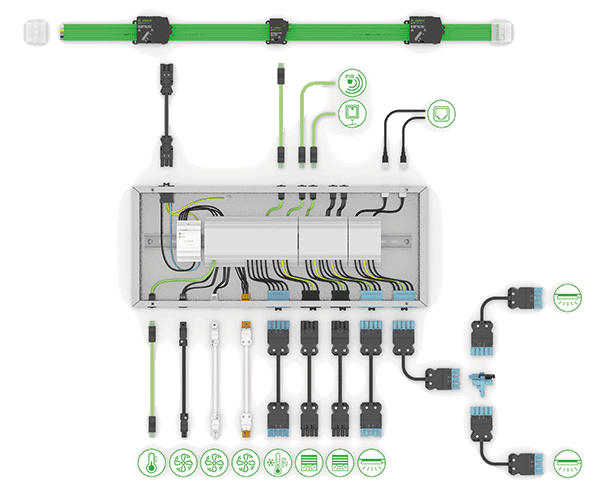 Backbone: gesis® NRG

Decentralized installation room: gesis® RAN distribution box

gesis® & RST® installation connectors:

Interfaces to the field level
1. OFFICE BUILDING
Initial situation: Conventional office areas are characterized by a rather rigid office layout, which turns out to be not very adaptable – especially to unforeseen events.
Modern office spaces are designed to allow for flexible space concepts and must be effectively convertible, especially with regard to:
Number of employees (reduction or increase of work stations)
Functionality (e.g. open-plan offices, separation of discrete spaces in the form of individual offices, meeting, conference or brainstorming rooms)
Room automation (lighting, air conditioning, sun protection)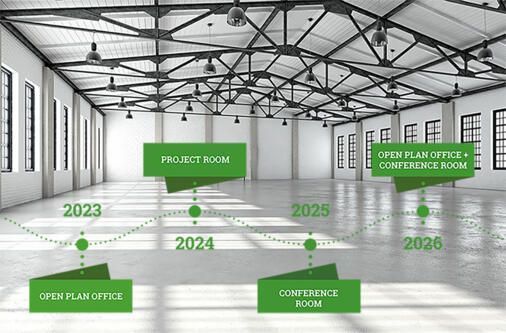 To implement a well thought-out and future-proof office architecture, the decentralized & pluggable electrical installation is the ideal solution:
The entire energy supply, along with lighting installation, climate control and room automation, can be networked via a decentralized, smart electrical installation: the pluggable concept ensures clear structures, because cabling and plug-in systems are quickly installed and easy to handle. The necessary installation space for controllers, protection/switching devices, etc. is provided by the Wieland distribution boxes, which are installed in the suspended ceiling or in the false floor and connected in a plug-in manner. The advantages are clear: No more headaches about how future office concepts can actually be implemented. The business benefits are obvious, not only for the office operator, but above all for planners and installers, namely reduced time and costs with increased effectiveness.
2. SHOPFITTING
Anyone who wants to plan and operate a modern and efficient store system cannot avoid a clear structure through modular installation. It offers more security, because not only is maintenance or even repair made easier, but also subsequent adjustments and extensions can be implemented quickly. The prerequisite here is that all components are designed to be pluggable.

Advantages – for both planners and installers – of decentralized & pluggable infrastructure cabling in shopfitting are:
Decentralized energy supply
Energy taps at any position on the sales floor
No manually wired junction boxes
Specific potential for optimization lies primarily in the areas of:
Shelving systems
Lighting
Infrastructure cabling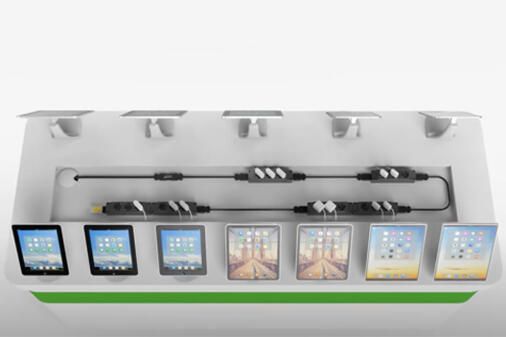 3. FUNCTIONAL BUILDINGS
Nowadays, a wide variety of usage structures are required in almost all functional buildings.
This is especially true for the following types of buildings:
Office and administration building
Education: Kindergartens, schools, universities
Healthcare: Hospitals, nursing homes
Your advantages for functional buildings:
Shorter planning and realization times
Reduction of the complexity of the entire electrical installation
Clear structures in energy supply
Holistic sustainability
More flexibility for changes of use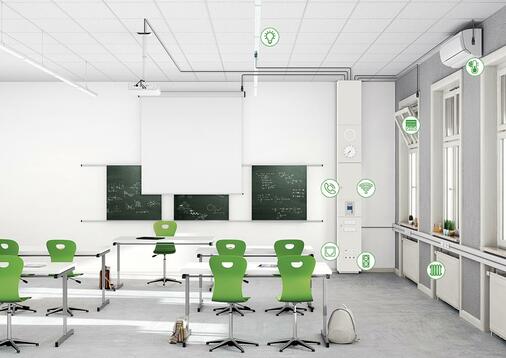 In general, functional buildings present planning offices and installers with a very special challenge when it comes to electrical installation, because the following obstacles make planning and implementation more difficult:
Lack of clarity: The complex requirements make a structured implementation of the installation necessary
Interconnectedness: Although most functional buildings are divided into individual areas, they must be strongly interconnected. Everything is connected to everything else, but must also function separately
Momentum: In the life cycle, functional buildings undergo minor or major changes of use. These changes are not always predictable in the long term, making rapid responses necessary
Lack of transparency: In the case of functional buildings, not all information about the different building or usage areas is always accessible
Multi-purpose: Purpose-built buildings are generally "multi-purpose buildings", i.e. they have a variety of different spatial concepts, each of which must first fulfill its own specific task and must also be integrated into the overall concept
The answer to these challenges:
Pluggable and decentralized electrical installation systems!
HAVE WE AROUSED YOUR INTEREST?
Download our free concept paper with all the information!

Pluggable installation systems – save time and become more flexible!


DOWNLOAD now for free