GRADUATES / NEW PROFESSIONALS
Working at Wieland - Hit the ground running with us
A start to your career that is full of opportunities
Do you have your degree in the bag and are now looking for a job that offers exciting career opportunities? Do you already have some initial work experience under your belt thanks to internships or student vocational experience schemes? If so, you have come to the right place. Wieland offers motivated graduates and well-trained professionals with initial work experience an ideal starter package – and long-term prospects.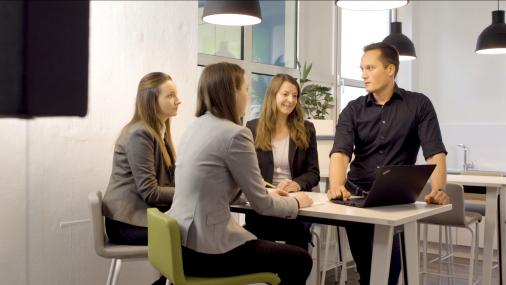 Flexibility
A rigid policy of working 9 to 5? Not with us. Right from the outset we offer our employees the opportunity to structure their working hours freely. A morning doctor's appointment? No problem. With flexitime you can set your own start and finish times outside the core working hours. Not only is this practical for scheduling important appointments, it also offers you considerable freedom to complete your tasks.
Above-average remuneration
Service must be rewarded – financially as well. For this reason, we offer our employees an above-average, performance-related salary.
Responsibility
It goes without saying that all our "newbies" go through an appropriate induction process. At the same time, however, you will soon assume responsibility for your tasks and projects in the departments. You will work immediately in the role for which you have been hired and can get started. We particularly encourage integrity and a purposeful approach.
Prospects and opportunities
Commitment should be rewarded. For this reason, motivated employees receive targeted encouragement at Wieland and outstanding tailored personal and career development opportunities. We know that well-educated and trained staff are our most valuable asset and contribute significantly to the company's success. Your career is therefore very important to us. We will actively help you gain the qualifications you need to assume other, more senior tasks.
HIT THE GROUND RUNNING WITH US