STUDENTS
Working at Wieland - From university to Wieland
ACTIVELY SHAPING THE FUTURE
Thinking about tomorrow today – that is our basic motto. With our expertise we work every day to solve the technical challenges of the future. To do this we need motivated and dedicated employees. People who not only identify with our solutions, but are also excited about progress and the innovations of tomorrow. People like you. As a student, you can gain work experience at Wieland through internships, student vocational experience schemes, or thesis work in a medium-sized company and acquire a deep insight into the diverse areas in which we operate.
WHAT AWAITS YOU
All our innovations and developments are only as good as our employees. This is why we are very keen to find and encourage qualified newcomers. This encouragement will begin even during your studies. We are a partner who will guide you from the moment you begin your academic training. This offers numerous advantages for you.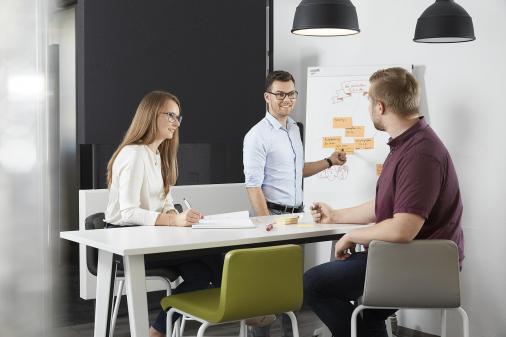 Flexibility
To allow you to combine work and study in the best possible manner, we offer various models. For example, you can work 35 hours a week during the internship – with flexitime, of course. As a student worker you will have the opportunity to gain important practical experience during eight to 20 hours a week without leaving yourself short of study time.
Support
Our experts are already specialists in the topics that you still need to learn. So, they are happily on hand with help and advice. Every student has a set contact person in the respective field here who will ensure that he or she settles in perfectly. And of course you can turn to our professionals at any time afterwards as well. Our motto is "If you have a question, just ask."
Practical relevance
Any theory is useless if you have no practical experience or cannot acquire it. That is why with us you will receive direct support and be closely involved in the day-to-day work. As a team member working on real projects or as the manager of your own project, you will gain an exciting insight into an international company. This will allow you to lay the foundations for your professional future – ideally with us.
Team spirit
We achieve more together than we do alone. That is why we place great value on teamwork. Cooperation between colleagues and mutual support result in a relaxed atmosphere conducive to your learning and development.
PRACTICAL DIVERSITY AT WIELAND
Your internship
Contacts only harm those who do not have them. The same applies to experience. So, it is good that you can establish or gain both with us – in technical and commercial areas. You should possess not only an open nature but also an interest in the work involved in an international company. The experience that you will acquire during an internship at our location in Bamberg you will be able to apply and expand during an internship abroad at one of our international subsidiaries if necessary. Obviously, all this takes a while. Therefore, so that the internship enables you to gain a real insight into the everyday work of Wieland Electric, the ideal duration of an internship is around four to six months.
Your start as a student worker
No matter where – if you are enrolled at a university, you can hit the ground running in one of our divisions as a student worker. This is because you can combine study and work perfectly with us: working part-time during the semester and full-time during the summer vacation (eight to 20 or 35 hours a week, respectively).
Your thesis as a start to your professional life
Wieland Electric regularly provides exciting and demanding topics for theses for diplomas, bachelor's degrees and master's degrees, which will match your research interests and further your career path. You will receive personalized and comprehensive support from us. Would you like to suggest some topics? Even better. Feel free to include them in your application.
FROM UNIVERSITY TO WIELAND
The application process for students
1. Application (preferably in PDF format)
Customized covering letter
Résumé in table format
Copies of the last 2 certificates
Details of practical experience (e.g. internships, periods abroad, social engagement)
Email to: bewerbung@wieland-electric.com
2. Acknowledgment of receipt
3. Checking of your documents
4. Personal interview
5. Acceptance
6. Start at Wieland Electric