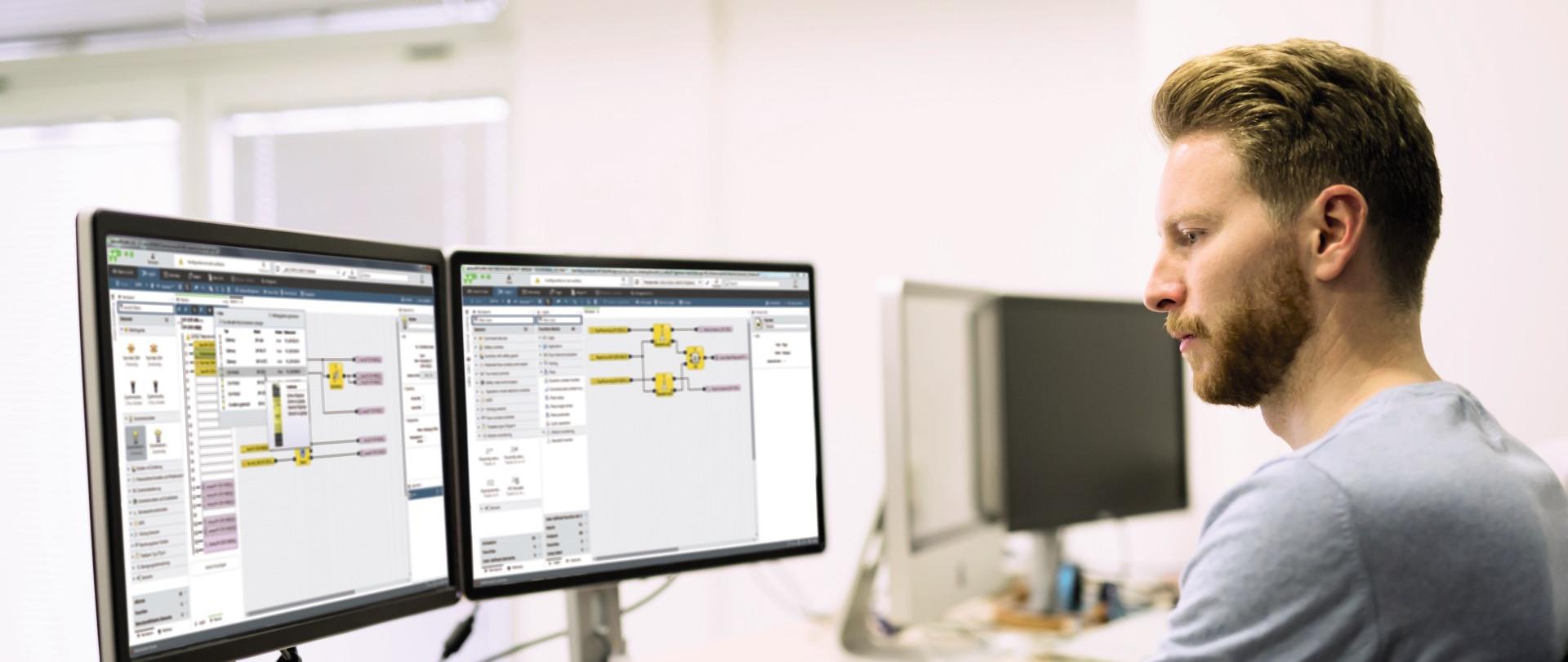 SAMOS® PLAN 6
Download below and try the most intuitive safety software for free!
DOWNLOAD NOW!
THE SAFETY SOFTWARE
Intuitive + flexible + unlimited
Take the guesswork out of machine safety with Wieland's intuitive software companion ─ samos® PLAN 6. Complete with a pre-loaded library of TÜV certified safety function blocks, system validation & verification, and documentation, this powerful software can be tailored to manage a variety of safety standards for your machines.
ALL AT A GLANCE
Intuitive operation and automatic hardware configuration
Error-free commissioning through integrated simulation and logic analysis
Comprehensive library with TÜV certified function blocks
Comfortable operation with multiple screens, docking and floating
windows
Fast machine setup with missing sensor emulation (forcing)
Configurable project documentation with one-click reports

SAMOS® PRO COMPACT
STARTER KIT
The simple entry into the samos® safety world.

Test our safety system with our samos® PRO Starterkit.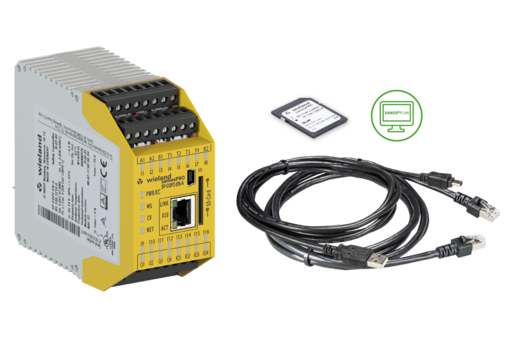 INTUITIVE CONFIGURATION
samos® PLAN 6 offers automatic hardware configuration.
Easy entry to programming
No detailed product knowledge required
Select features instead of modules
On-the-fly configuring & programming
Less engineering effort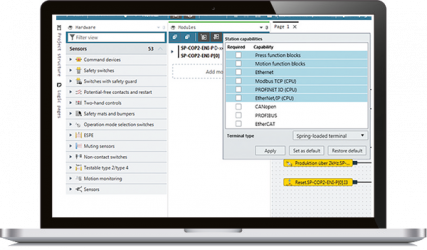 SIMULATION INSTEAD OF TESTING
Simulate your programmed logic in real-time on the PC instead of looking for faults on the machine.
Offline function simulation
Signal selection via drag & drop
Fast signal change and debouncing feature
Deceleration up to a factor of 20
Simulation exported to Excel
Documentation as a PDF with one click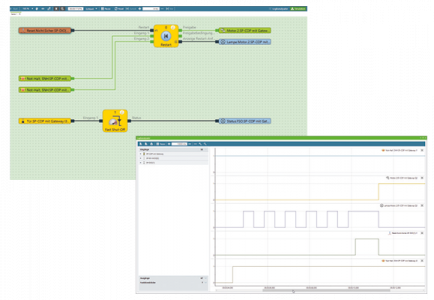 FASTER VALIDATION
In online mode with oscilloscope function, you can quickly validate, verify and document your safety functions on-site.
Online recording on a laptop
Long-term recording for troubleshooting
Validation and verification on-site
Fast documentation with PDF export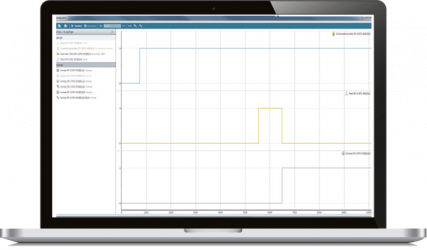 EASY CUSTOMIZATION OF PARAMETERS
Easily customize configurations and parameters with the included TÜV certified function block library.
Fast-track your design and save valuable debugging time
Includes functions for presses according to EN 692 or EN 693
Use muting functions
Adjustable switch on and off delay
FLEXIBLE SCREENS
Adapt your workspace to your needs.
Docking and undocking window arrangement
Flexible with multiple screens
Clear diagnosis, verification and troubleshooting
Selectable Start view (HW, logic)
Customized and savable layouts (laptop, PC, tablet)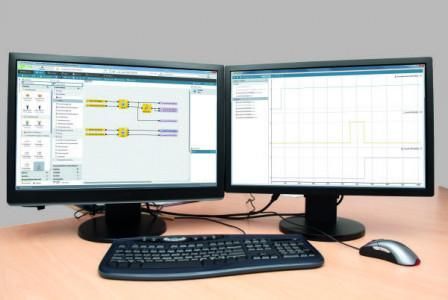 FAST MACHINE SETUP
Emulate missing sensor hardware with the forcing function.
Comfortable machine setup with forcing for missing sensors
Time-limited forcing up to 8 hours
Minimal errors at shift change
Fast troubleshooting thanks to diagnostics messages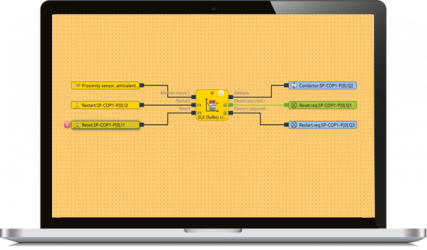 GLOBAL REMOTE DIAGNOSTICS
With samos® PLAN 6 and the integrated Ethernet interface, you and your system are connected worldwide, saving on expensive service calls.
Initial diagnosis via LEDs, Touch Panels or PLCs
Remote diagnosis via integrated Ethernet
Remote access to samos® PRO via VPN router
Remote via LAN, WLAN or mobile radio
Fast troubleshooting of issues
Advanced security against manipulation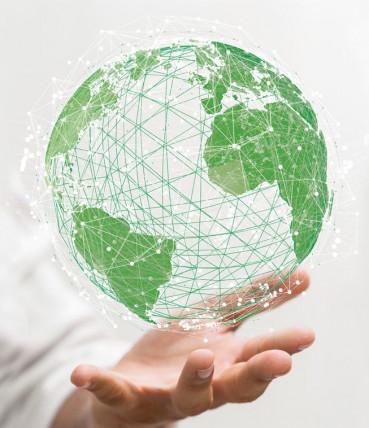 ONE-CLICK REPORT GENERATION
Document your projects with one click.
Cover sheet includes project info and CRC
Optional manipulation protection with falsification code
Easy to order thanks to parts list
Time saving with wiring examples
Safety values (SIL, Kat, PL, PFHd)
Comfortable calculation of the overall performance level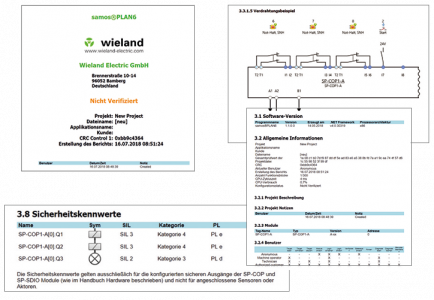 PROTECTION AGAINST MANIPULATION
Protect your machines against manipulation and hacker attacks with the new "Advanced Security" capability.
No project modification on the controller without falsification code
Extra precautions against unauthorized access via Ethernet
Project runs only on a specified controller – for more control over spare parts business
The controller runs only with the original project – for protection against SD card change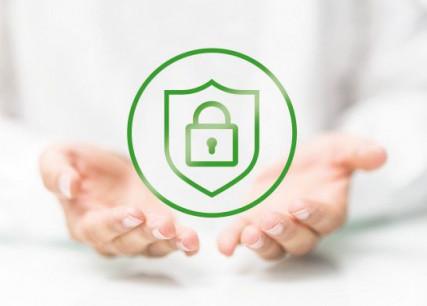 FREE DOWNLOAD
You are only a few clicks away - please fill out the form below to receive your free programming software.