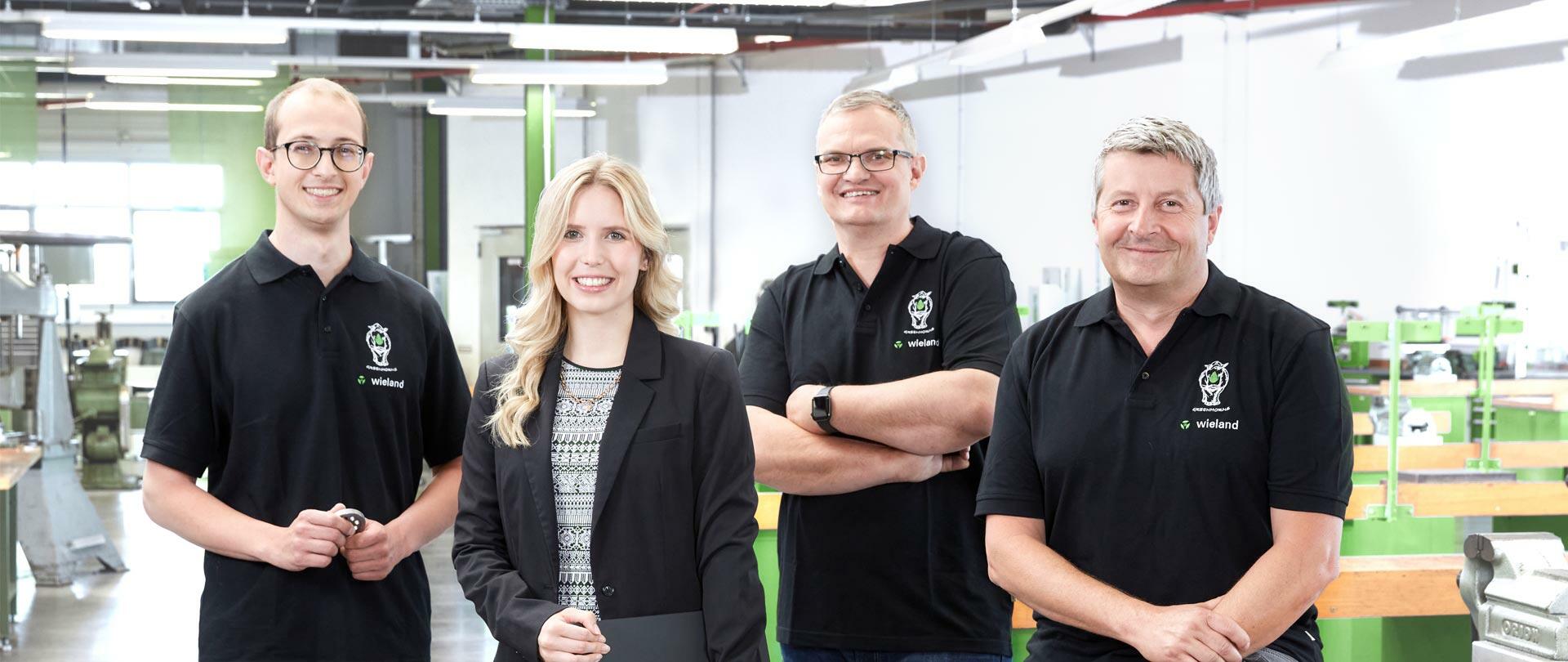 WIELAND AS AN EMPLOYER
Working at Wieland - Flexibility and autonomy
YOUR CAREER AT WIELAND
You grow with your tasks. Wieland offers you the opportunity to constantly face new tasks and challenges and to develop yourself further - both professionally and personally. You benefit from our flat hierarchies and the modern structure of an industrial company in the age of digitalization and Industry 4.0. Try it, gain experience and get involved with passion – join at Wieland!
Teamwork on an equal footing
We know: Together we are strong and our goals can only be achieved in a team. That is why we at Wieland value every single employee, their experience, ideas and opinions. Conversations take place on an equal footing and thus ensure a respectful cooperation.
Numerous opportunities for further development
The personal and professional development of our employees really matters to us. We therefore encourage our staff so that we can deploy them based on their skills and interests.
Promotion of personal initiative
Our employees are professionals in their fields. Wieland therefore encourages its staff to exercise their own initiative in their actions and decisions.
Open feedback culture
Nobody is infallible. And that includes us. So, we have an open attitude to feedback and request this from our employees. Suggestions, ideas, or criticisms – we listen to them all and actively help our staff to implement improvements.
YOUR Advantages
A good salary, personal responsibility, self-realization or work-life balance; Everything is offered to you.
Responsible and exciting tasks in a dynamic environment
Excellent compatibility of private and professional interests due to a flexible 35 hours week and 30 days of holiday with the possibility of a home office
Above-average salary
Occupational pension provision
Attractive sports and health services
Excellent accessibility by connecting to the public transport network and company-owned parking spaces
Change of perspective through hospitals and assignments in abroad worldwide
Tradition meets innovation
Wieland is a family business with history and tradition. We are proud of that. The fact that we are so successful today certainly has a lot to do with our experience, but also with our willingness to think completely new again and again. Industry 4.0 and digitalization are already in full swing for us. For customers from wind energy and photovoltaics, we already work as naturally and tailor-made as we do for mechanical engineering. In short, we have our eyes firmly set on the future.